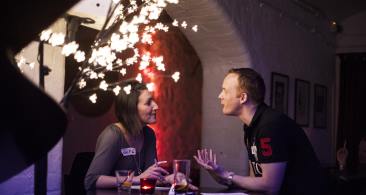 Emma
"A truly enjoyable evening. I am on a real high. A real boost to my ego. Wonderful to have so many guys chasing me."
Amy
I just wanted to say a big thank you to you for organising such a fantastic event in Southampton last month. I have to admit, I was extremely worried about coming but after a little persuasion from my sister I arrived at the venue to see what Speed Dating was all about. After listening to the welcome speech, I figured that I could be a great Speed Dater and proceeded with a smile to meet my first date. Despite it taking a couple of dates to get used to 4 minutes feeling like 30 seconds, I quickly learnt the art of this high-speed dating malarkey and got right into the swing of things. The evening flowed by with none of the scenarios occurring that I had imagined and I can honestly say it was one of the best evenings I have attended! I particularly wanted to thank you for giving me the opportunity to meet Steve. Steve was my last date of the night - it's true what they say, good things come to those who wait! Steve and me have been seeing each other since the event and despite it still being early days, things are going in the right direction and we're having a wonderful time! Fingers crossed for us! Thanks Slow Dating, you have put a smile on mine and Steve's faces.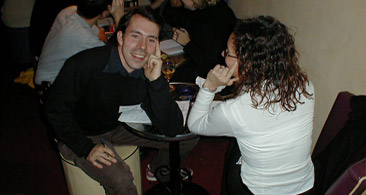 Joanne Smith
"Really friendly, was clearly told how the event would work, nice relaxed atmosphere, 4 minutes seemed like not enough for some people and just enough for others so that just shows who you'd like to meet again to spend a bit more time with. Would highly recommend and if no luck this time I will be back."
Dave
What a night! I wanted to say what fun I had Speed Dating in Bournemouth on Tuesday night. The girls there were great and I had a wicked time trying out my new chat up lines – needless to say, some were received with a polite but worried smile! After dating all the girls, I stayed on for drinks with a group of people and had a great time chatting and generally having a good time. The venue was great, the ladies were great, the hosts were great – the whole night was great! Let's just hope my date I have organized on Saturday is great too!! Thanks again guys, you do a great job.
Melissa Hackney
"It was my first-time speed dating, and I would say it's a good way to get out there and meet new people. The organisers were friendly and able to direct you. It would've been great to have a little more time with each date, to have that little bit more to share. Overall, a good experience with some interesting conversations. Thank you Slow Dating."
Louise
I did laugh a lot though and where else will you meet 21 men of roughly the right age, in one evening? Thanks, it was marvellous fun. Keep me up to date with all the events in Bath, I can't wait to go again!
Gary
Round of applause to you all. I found you on the internet, I thought I'd give it a go, I booked a place, I started getting nervous, I got to the venue, I walked past the entrance, I took a deep breath, I got to the venue again, I walked in the entrance, I looked around, I checked in, I took a deep breath, I sat down with my first date, I took another deep breath…here we go. Well well, I had no need to be nervous, the night was great! The hosts quickly realised I was new at this game (as well as most of the other people attending) and made sure I was happy with everything and told me everything I needed to know. The evening whizzed by and I met some really nice ladies and even have a date lined up for tomorrow night! I would certainly recommend you to anyone, this evening has given me the confidence I needed. I'd like to say I'll come again but I'm hoping tomorrow night will go well and I won't need to!!!
Judith
I wanted to say a BIG THANK YOU to you at Slow Dating. Having had a bad experience with another Speed Dating company and I vowed never to do it again, my friend persuaded me to contact yourselves. I reluctantly picked up the phone and waited for the recorded message or somewhat unhelpful person to answer so that I could prove my friend wrong. However, what I actually experienced was quite different! The lady I spoke to was very friendly and immediately relaxed me by being incredibly genuine. I asked more questions than I'm sure anyone ever has and all the answers I received were very helpful and thorough. I particularly liked the fact that the advice given was from experience, as the lady herself had been Speed Dating and knew exactly how I was feeling. Not once during the call did I feel like I was talking to a company who focused totally on sales and not once did I feel pressured to book a place. Due to this, I did actually book onto an event in 2 weeks and I am very excited at the prospect of meeting some nice guys! Thanks Slow Dating, you have renewed my faith in Speed Dating and made me realise that there's some genuine and friendly companies out there.
Lauren
I had a great time at your speed dating event in Oxford last week. I was really nervous because I didn't know what to expect. Once I arrived the hosts put me at my ease, and when I saw the people arriving I was amazed to see how many good-looking guys there were, so I was really excited and couldn't wait to get dating. It was definitely an experience I'm glad I had and since then I have been on a few dates....so watch this space!
Rebecca
The hosts were great, really friendly and put me a ease straight away as I was on my own. having them wear uniform certainly helped me recognise them. I would be more than happy to recommend to my friends and if any of my matches don't work out, I would definitely go again!
Christina
I met my partner at Slow Dating about an year ago, we are nearing our anniversary now and are very serious about our relationship. We plan to get married this year and I would recommend them wholeheartedly. Thank you once again.
Kerry
I would definitely recommend Slow Dating. It was my first time doing something like this and overall it was a positive experience. There was a great mix of people, all pleasant, no major odd balls. Looks as though I've a date or two as a result!
Suzanne
I'll be honest never been to speed dating before and was a bit apprehensive. Didn't know what to expect though the 4 minutes would drag by. It was a really good quick night the 4 minutes fly by. You just get talking and then it seems like the bell rings. Would recommend the events. Denise the host was very welcoming and helped put people at ease.
Josephine
Last night was my first time going speed dating, I found slow dating online it was very easy to book. Received emails to confirm booking and a place. I went on my own last night and I don't regret it for a second as I was nervous at first but the Inn staff were very nice and made me feel at ease. The host was lovely, the whole experience was so much fun, I would definitely go again with slow dating as it was a lovely venue, lovely host and overall an amazing night. The four minutes went so quickly, but I managed to get to know the person in that time which was great. It was lovely to mingle at the start, in the break and at the end to get to know people you hadn't spoken to yet or to get to know the person more. Thank you so much for a great evening and I highly recommend it to anyone as I was put at ease and it was such a fun night.
Jonathan
An evening of Slow Dating in Bath was better than I imagined it would be. The venue was excellent (Circo, Bath) and the friendly hosts managed the event professionally and made sure everything ran smoothly. Meeting people face to face for real is the way to go.
Duane
Yesterday was my first experience of Slowdating.com, it was a positive experience and it's so much better to see people in person, than online dating.... it's defiantly worth going, remember you only need one date from it :)x
Dale
The slow dating experience is a great way to meet like-minded single people in a relaxed environment. These events are always very well organized and they always make everyone feel welcome weather it's your first time or you regularly attend the events. I attended Southampton and the venue and atmosphere was excellent with good numbers of dates to chat with. I would recommend Slow dating to anyone who is single and looking to date.
Rachel
I was a bit nervous about speed dating as it was my first time doing it last night, but the hostess was lovely and she made you feel at ease and as the night went on I found the overall experience of speed dating a lot better, and quite fun and chilled out night and found it was not as bad as what I was expecting, I recommended it to my friends and I would definitely go to another speed dating event.
Matt
I had a good night out speed dating, a little wary at first but the hosts put me at ease and explained the setup. The structure is to chat for 4 minutes to each person, and there was a 15 minute break halfway through. It was fun chatting to so many ladies, and I even had a few matches which was I was pleased with. I would recommend as a good fun night out.
Natalie
My friend and I had the best time at this event. It was well organised and fully supervised so it felt safe and was such good fun. The booking process was really easy and the website was so simple and updated on time. I'd recommend this company to anyone looking to speed date or in this case "slow date"!!
Jennifer
I attended one of their events in london last week and had a blast! 14 dates with a variety of men... granted some weren't my type but it was still nice to chat to different people. I'm a little too old for going out in the bars looking for a man and online dating doesn't work for me.
Vicky
I was honestly so sceptical about speed dating but got talked into it by friends. Booking was easy, the website was easy to navigate and event was reasonable price. Venue was very nice. Event staff were amazing. Very reassuring for me who turned into a complete nervous wreck when I arrived! Event was well run. Honestly couldn't have had a better time.
Jo
Excellent way of meeting liked minded people. Well organised and really friendly. Would recommend it to everyone. Book now....its great fun.